Executive Corner – 5 Specific Questions to Ask to Delight and Actually Retain Top Talent
Michael Clegg | 04/28/2022
Companies can decrease turnover by implementing the valuable practice of the "Stay Interview" with current employees. Stay Interviews are certainly not a brand-new concept, but the current employment climate has forced companies to consider its relevance in the war for talent. This article is an updated version from the original written in 2018, and some things have changed. The frequency and recommendations of how often we meet with employees have changed. How we conduct those meetings is changing. Innovative companies will change their tactics to gain relevant insight into employees' attitudes and values and deploy technology to understand their needs and expectations.
According to Korn Ferry, the average person changes jobs 12 times during their lifetime, changing companies twice as fast as they change their vehicles. The average employee is likely to jump ship every 4.2 years, down from 4.6 years in the past five years. Younger employees (25-34) stay less than three years. These employees need a connection to their "purpose and meaning directly." You can identify those during 1×1 and Stay Interviews. Attrition means companies are constantly hiring and rehiring and leading to frustration and drained resources for the same position.
Often, managers feel blindsided when someone quits and wishes they could go back and "fix" the problem that led up to the departure. According to a study from Harvard Business Review, about ¾ of organizations conduct exit interviews with employees leaving. Therefore, it is an industry-standard. The truth usually comes out during the exit interview, but it is too late to save that employee. The new hire process all over again costs companies valuable time and resources. Yet, according to this research, Stay Interviews are only used by 27% of companies. There continues to be an apparent disconnect between leadership and employees.
Many companies employ a standard annual review procedure. The best companies check in on a more frequent basis with formal 1x1s. (See February's newsletter for a straightforward 1×1 structure.) Gallup surveys show that regular 1x1s increase employee engagement by 3x. Considering that Gallup shows that only 1/3 of employees are engaged, leaders need to implement strategies to help retain their employees. Intentional meetings are required to gauge employee satisfaction and improve the likelihood of retaining employees. The ultimate purpose behind this 1×1 (leader/employee) conversation is to determine what the company can do to keep this person and to hear any grievances that may result in them leaving the organization. Before the pandemic, experts recommended that leaders (versus HR) sit down for a discussion in a structured format at least once a year, typically opposite the annual review date and twice in the critical period during which companies experience attrition of new hires. These meetings allow employers to take immediate action to improve the individual's satisfaction if there is a problem. Today, that frequency is NOT enough. Over time and after interviews with multiple employees, companies will likely see patterns and have the opportunity to make valuable company-wide changes and improvements. Stay Interviews decrease turnover and promote a more promising, productive work environment.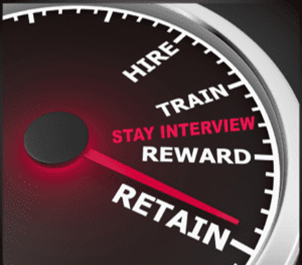 It is a good idea to be transparent with employees about the purpose of this meeting and allow them time to consider what they would like to discuss in advance. The Stay Interview should be implemented into the hiring and onboarding process to benefit the employee. Knowing that they will have an opportunity to express themselves openly in a deliberate meeting promotes a sense of trust and value—types of questions to ask.
STAY INTERVIEW:
1. What do you look forward to each day when you commute to work?
2. What are you learning here, and what do you want to know?
3. Why do you stay here?
4. When's the last time you thought about leaving us, and what prompted it?
5. What can I do to make your job better for you?
I call this the reverse JFK question because it is our job to give them what they need in order to get what the company needs
New job creation continues to increase, and the demand for retaining skilled talent has never been greater. There are still more jobs than there are people to fill them. Companies are struggling to fill positions and keep the employees they have because they don't understand their purpose and meaning. Implementing Stay Interviews into a retention strategy is just one more tool an organization can use in retaining critical employees. It does require time and effort to develop a plan of action and apply it effectively. But if it means decreasing overall turnover and hanging on to the best team members, it will undoubtedly be worth it.
According to a study from Harvard Business Review, about three-quarters of organizations conduct exit interviews with leaving employees. A percentage this high practically makes exit interviews an industry standard for every type of business — but if that isn't reason enough to convince you exit interviews are worth it, let's discuss the benefits you can glean from chatting with former employees.